Marilyn Mason:
In Memoriam

*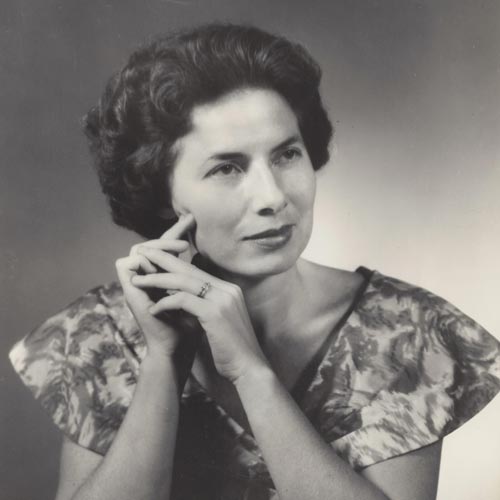 Marilyn Mason, who had been an internationally acclaimed concert organist, longtime Professor of Music, University Organist, and Chair of the Organ Department at the University of Michigan has died in Fort Lauderdale, FL at the age of 93 years. She was the longest-serving faculty member at the University of Michigan, retiring after 67 years on the faculty.
Her extensive career as a performer, lecturer, adjudicator, and teacher took her throughout the world, at one point performing more than thirty recitals per year. She was the first American woman organist to perform in London's Westminster Abbey, the first American woman organist to perform in Latin America, and the first American organist to perform in the newly completed Sayyid Darwish Concert Hall in Cairo, Egypt. During one sabbatical leave from her duties at the University of Michigan, Mason's performing career took her to venues on five continents. She was an adjudicator in nearly every major organ competition in the world. Mason also led a life of service as a church musician, serving various denominations including 27 years as organist at First Congregational Church in Ann Arbor.
Mason's charismatic personality, coupled with her depth of experience and wealth of knowledge, made her one of the most sought after pedagogues of her time. In her role as Professor of Organ and University Organist at the University of Michigan, she performed at honors convocations, university presidential inaugurations, and at memorials for heads of state. Her work at the University has been celebrated on many occasions. Most notably, her colleagues at the University presented her with the Distinguished Faculty Award and music alumni awarded her the Citation of Merit. Another highlight of her career came in 1985 when the University of Michigan commissioned a new organ from the Boston organ builder C.B. Fisk Inc. The School of Music, Theatre & Dance named this organ the Marilyn Mason Organ, honoring Dr. Mason for her many contributions to the Organ Department and the University of Michigan. She was also honored in 1988 as the "Performer of the Year" by the New York Chapter of the American Guild of Organists. With a career marked by many awards and honors, perhaps the greatest testimony to her work is seen in the careers of her numerous students, many of whom hold prestigious positions in academic settings, as well as high-profile church positions throughout the world.
While at University of Michigan, Dr. Mason was responsible for starting two signature events, both of which would become hallmarks of organ study. Beginning in 1960 the University of Michigan has been home to the annual Organ Conference. This conference, which showcases the pipe organ, its music, and performers from around the world, has served as an invaluable means and meeting place for the exchanging of ideas and scholarship throughout the organ world. The second signature event was her series of Music Tours of Historic Organs. Soon after the inauguration of the Organ Conference, Dr. Mason conceived the idea of taking her students, and other organ aficionados, on tours to some of the historically significant pipe organs in the world. Using her knowledge of European instruments and her vast network of colleagues throughout the world, Dr. Mason was able to plan, promote and lead over fifty Historic Organ Tours to the great organ lofts of the world.
Marilyn Mason's Life
Her Childhood
The oldest of three children, Marilyn May Mason was born in Alva, Oklahoma on June 29, 1925. Marilyn's grandfather, Harry E. Mason, started the Alva State Bank in 1904; the bank's motto still is "Older than Oklahoma." Her father, Merritt Clark Mason, continued family ownership of the bank. He often told Marilyn, "You practice and I'll pay the bills." Marilyn's mother, Myrtle (nee Else) Mason served as pianist and organist at the First Presbyterian Church in Alva. Marilyn began studying piano when she was six years old, and continued studying piano through high school. She began her organ studies when she was ten years old, and she soon became her mother's assistant and substitute at First Presbyterian. As a young girl her musical education was rounded out with study on the clarinet, oboe and cello. Dr. Mason attended Bethany College in Lindsborg, Kansas for the academic year of 1942-43. Upon the recommendation of her high school piano teacher, Frank Whiteside, she transferred the following year to Oklahoma State University in Stillwater. At the end of her second year, she began studies at her father's alma mater – The University of Michigan. Upon her arrival in Ann Arbor she was assigned to study with Palmer Christian, who was not only a leading organist but was very interested in the contemporary music of his time: He was one of the first organists to play and teach the works of the French composer Olivier Messiaen. Christian's dedication to the music of his time would leave a significant impression on Mason, and she would go on to commission over seventy works for organ written by many of the leading composers of the twentieth century. Many of the works commissioned by Marilyn Mason have been published by MorningStar Music Publishers as the Marilyn Mason Music Library.
Education & Career
Mason earned her Bachelor's degree in 1946 and a Master's degree in 1947 from the University of Michigan. Beginning in 1950 Mason began work on her Doctorate in Sacred Music at Union Theological Seminary in New York where she was a student of Clarence Dickinson. After several summers studying at Union, and guest teaching at Columbia University, Mason earned her Doctorate in 1954. Earlier, Marilyn Mason traveled to France in the summer of 1948 to study score analysis and theory with Nadia Boulanger at Fontainebleau School of Music. During this study leave she also studied organ with Maurice Duruflé, who taught her the works of the French masters and the music of Johann Sebastian Bach at the historic church of Saint-Étienne-du-Mont in Paris.
Dr. Mason began her teaching career at the University of Michigan in 1947 as an instructor and quickly moved through the ranks of academia, becoming Associate Professor in 1955 and shortly thereafter a Professor of Music. She was appointed as University Organist in 1976, succeeding Robert Noehren. Mason's career as a concert organist began concurrent with her appointment at the University of Michigan when she presented her first large concert in 1947 at the Church of the Advent in Boston, which was soon followed by her landmark performance of the Variations on a Recitative by Arnold Schönberg at the 1950 AGO National Convention in Boston. Her reputation as a formidable performer grew rapidly and she was soon recognized as a major talent in the organ world. With a growing and enviable reputation, her name would soon appear on the rosters of prestigious concert management firms such as Lillian Murtagh and Karen McFarland. Her career as a performer afforded her the opportunity to present the breadth of the organ repertoire's canon, having performed the complete organ works of Johann Sebastian Bach three times, twice at the University of Michigan, and once as a guest performer at the University of Texas. Her work as a performer has also been well documented through her lengthy discography of recordings, which include rare performances of organ works by Arnold Schönberg, Erik Satie, and the complete organ works of Johann Pachelbel.
Marilyn's Later Years
Marilyn Mason married Richard K. Brown in 1948. The couple first met at a Christmas party in 1945, when Richard had just returned home from Japan after serving in the Army Air Force. With a background as a research scientist working in acoustical physics, Professor Brown spent over forty years teaching in the Department of Electrical Engineering at the University of Michigan. His support and encouragement of Marilyn's career cannot be underestimated because his selfless encouragement, and willingness to wear many domestic hats, made it possible for Marilyn to pursue her concert career, her work at Michigan and still enjoy a warm and vibrant home life. The couple enjoyed an exceptionally close and mutually supportive relationship over the course of their 43-year marriage until Richard's death in July of 1991. In 1993 Dr. Mason married William Steinhoff, who had served for many years as a University of Michigan Professor of English, and who later taught classes at the Turner Geriatric Center. Bill was an intellectually stimulating partner, and the couple enjoyed many happy years together until his death in September of 2009. Dr. Mason is survived by her two children, M. Christian Brown (married to Margaret C. Brown) of Lincoln, MA, Edward A. Brown (married to Quincy L. Brown) of Chatsworth, CA, and by four grandchildren. Those relatives and many treasured friends, colleagues, former students, and innumerable others whom her life touched will remember her vividly and fondly.
Contributions to the "Marilyn Mason – William Steinhoff Scholarship" at the University of Michigan School of Music, Theatre & Dance (2005 Baits Dr., Ann Arbor, MI 48109-2075; contact: Jillian Neill: jeneill@umich.edu).